Duet Punches Ticket to Tokyo
by Alyssa Jacobs, USA Artistic Swimming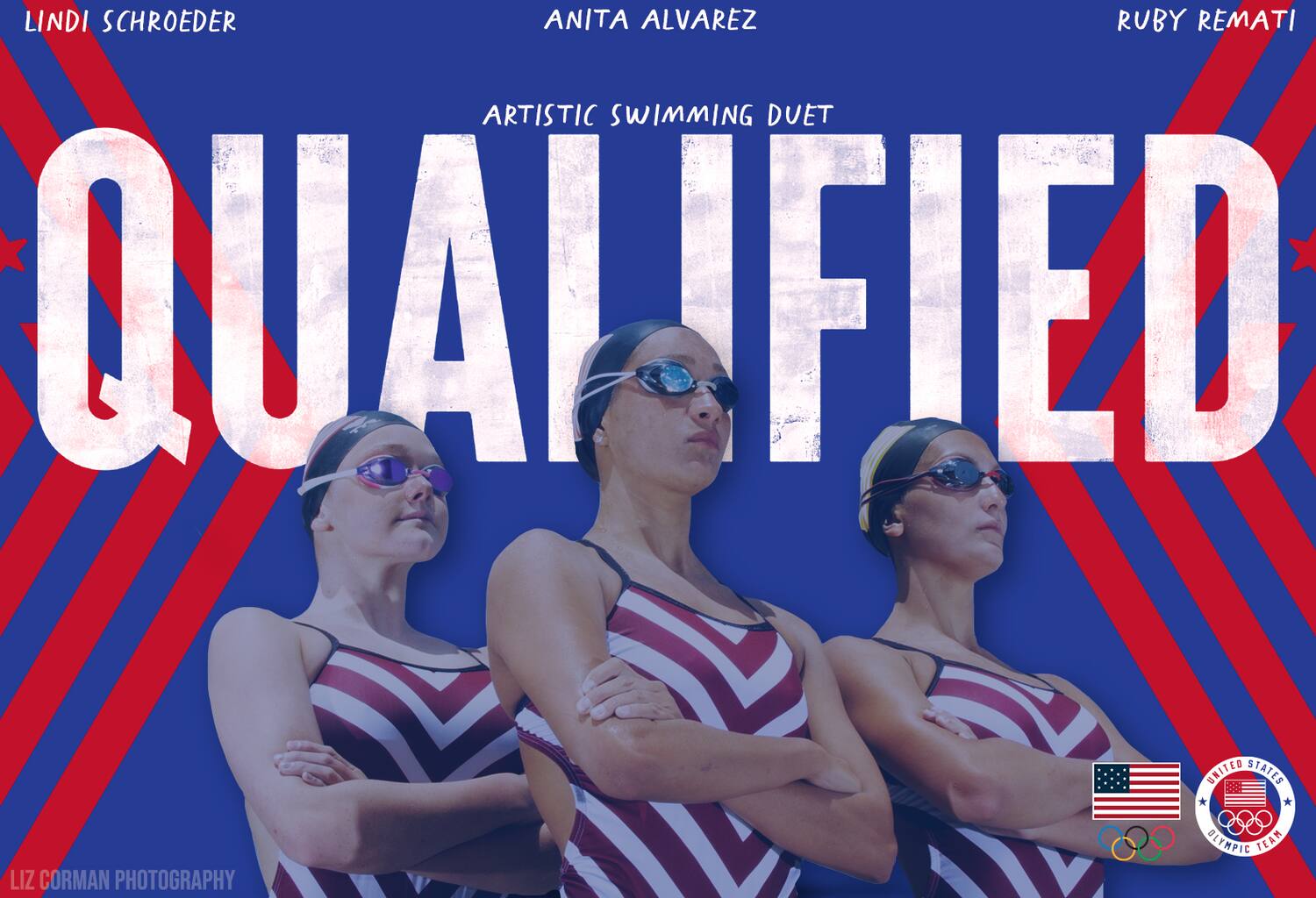 COLORADO SPRINGS, Colo. - After a roller coaster ride of a week, it was determined that the USA will have artistic swimming representation at the Tokyo Olympic Games. The fight for the final nine duet spots began on Saturday, as Anita Alvarez and Lindi Schroeder took the pool bright and early for their free routine to the tune of Billie Eilish. They had been refining this routine for over a year, competing virtually this year in the USA and Canada stops in the FINA World Series. After a beautiful performance that earned them an 87.2332 that put them in fifth place, Anita lost consciousness briefly in the pool. In a true display of head coach Andrea Fuentes's care for her athletes, she dove into the pool, fully clothed, to help Lindi get the 2016 Olympian to safety at the side of the pool. From there, medical staff evaluated Anita and cleared her to continue to compete if she felt well enough. She updated fans on social media, assuring the artistic swimming community she was okay and had her eyes set on the technical portion of the duet competition.

Anita and Lindi returned later in the day to compete their tech routine. Their swim was powerful and they were scored at 87.2417. This score was notable, not just for the perseverance of Alvarez but because it is typical for USA to score higher in free than tech. Their combined score for the day came out to 174.4749, putting them comfortably in fifth place behind Belarus, France, Netherlands and Austria. Despite the result, Anita looked visibly shaken as she retreated off the pool deck.

It was decided that evening that alternate Ruby Remati, who had previously paired with Anita for World Championships, would step in and participate in the free duet finals this morning. The USA community rallied behind her and it was clear anyone who knew Ruby believed in her capabilities to get the job done. Lindi quickly adapted and began training in the morning with her new duet partner. The duo, who had never swam together in an international competition before, delivered an impressive performance that was scored at 87.3668, a little over .1 higher than the preliminary score. This kept them at fifth, earning them a final combined score of 174.6085 and securing them a spot in Tokyo.

The nine duets that earned the opportunity to compete at this summer's Olympic Games via the qualification tournament include Austria, Belarus, France, Netherlands, USA, Israel, Great Britain, Liechtenstein and Colombia. They join Italy, Spain, Greece, Australia, Canada, China, Egypt, Japan, Kazakhstan, Mexico, New Zealand, Russia (Russian Olympic Committee), South Africa, Spain and Ukraine to complete the Olympic duet field. For full results from the qualification tournament, click HERE.
Duet Qualification
Tournament